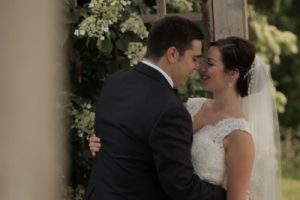 Not too long ago, we had the honor of documenting the wedding of Cassie and Johnny. Even more exciting, their wedding was featured in the prestigious WedLuxe Magazine.
Here's how the experts at Video Gems created their one-of-kind, magazine worthy wedding video.
1.  Meeting Cassie and Johnny
The couple became involved with the wedding videography early in the process, allowing us to plan the video perfectly to fit their needs and unique personality. We knew right away that the couple would be fun to work with. Their wedding, done in beautiful cream and white elegance, hide wonderful hints of childlike wonder – the Gotham skyline graced their tiered wedding cake!
2.  Beyond the Basics
Here at Video Gems we proudly offer four customizable wedding videography packages in the GTA and for Cassie and Johnny, the basic package just would not do. We were able to capture the wonderful event from multiple angles to create the timeless video they will be able to enjoy for years to come.
3.  The Day Of
The day Cassie and Johnny became one, we could not have asked for better weather. From the ceremony at Saint Matthew Catholic Parish to the reception at the Burlington Convention Centre, the lighting and atmosphere were perfect for capturing each special moment with crystal clear video and stunning audio.
4.  Inclusion in WedLuxe Magazine
WedLuxe Magazine is one of the most prestigious wedding magazines and inclusion within its distinguishing pages is a huge honor for us at Video Gems. However, the real honor comes with being able to witness, document, and celebrate each couple's wedding day – one of the most important and intimate times in a person's life. For 20 years we've worked hard to capture the beauty and life in these special moments and having our work grace the pages of a respected industry magazine shows that our passion shines through each video.
5.  Let us Immortalize Your Wedding Day 
Wedding Videography allows you to relive one of the most important events in your life. Professional editing, such as what is included in our customizable wedding videography packages in the GTA, allows you to experience this day as you would not be able to otherwise.
To learn more, or to request a consultation in the Greater Toronto Area such as Toronto, Oakville, Mississauga and Vaughan,   please contact the dedicated professionals at Video Gems today and let us help you create memories to last a lifetime.